FUSE and DEFUSER: EDELRID Guided Type Fall Arresters and Shock Absorbers Set New Standards
The FUSE guided type fall arrester glides particularly smoothly when both ascending and descending. The DEFUSER shock absorbers perfectly complement the FUSE and are tailored to rope access uses. The FUSE and DEFUSER will be available from retailers from April 2023. From mid-October 2022, EDELRID will present the diverse ranges of options for using the new rope access and positioning work collection in cooperation with training centers. Interested parties can register for the Rope Access Tour free of charge. Information about participating training centers and dates can be found on the EDELRID website.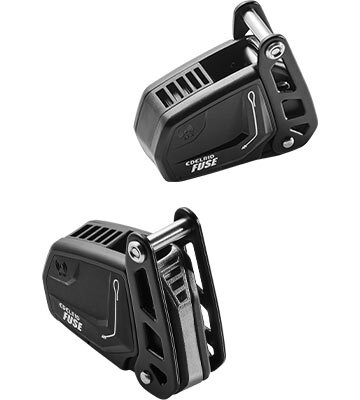 EDELRID FUSE
EDELRID's new FUSE guided type fall arrester enables an incomparably good glide movement up and down the rope from the first meter and is the only device of its kind on the market to comply with four different standards (EN 353-2, EN 12841-A, RfU 11.075, and ANSI Z359.15)—all in a compact design with easy handling.
Whether ascending or descending, the integrated centrifugal brake enables the device to move up/down the belay rope with incomparable ease from the very first meter. The integrated cam locking function can also be used for workplace positioning or to secure the rope in high winds. This makes it easy for users to focus on their work—while enjoying the particularly safe feel of the FUSE at all times. 
The developers from Isny im Allgäu are particularly proud of a special design feature: "The FUSE is unlike any other device on the market as its trigger and blocking mechanisms are structurally separated, offering multiple benefits," states Lucas Taddei, Work Safety Product Manager. "This separation and the absence of a toothed cam make the device particularly kind on ropes. The design also makes it possible to simply remove the FUSE from the rope after a fall." The guided type fall arrester can be easily clipped or unclipped at any point on the rope without having to be disconnected from the harness.
Furthermore, the FUSE complies with all pertinent European and international standards for large diameter ranges and maximum user loads in a single device. The RfU-compliant edge test also ensures suitability for horizontal work on edges from which falls are possible. Coupled with its impressive compactness, these properties make the FUSE the most universal device in its class.
The mandatory combination with an appropriate DEFUSER shock absorber (S, L, or RESCUE) makes it possible to select a complete system that is ideal for the intended use thanks to the different lengths and performance parameters.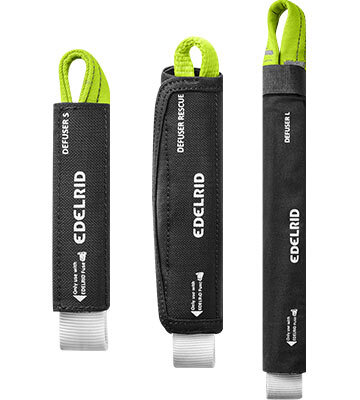 EDELRID DEFUSER
With its DEFUSER series, EDELRID offers not just one, but three shock absorbers for connecting the FUSE. These are compact devices for user loads of up to 140 kg (RESCUE version up to 220 kg) that significantly reduce the impact force generated in the event of a fall.
The perfect DEFUSER can be selected in line with the planned use:
DEFUSER S: Particularly ideal for climbing and working on ladder systems or flexible anchor lines as the compact design enables especially efficient guidance and makes the shock absorber easy to move with the user.
DEFUSER L: The elongated design allows, for example, greater distance from the belay rope during rope access and therefore a clearer working area.
DEFUSER RESCUE: The high load capacity of up to 220 kg enables users to work with heavy equipment and offers a higher reserve in the event of a rescue situation, enabling users to bear the weight of the person in need of assistance on their own system.
Technische Daten:
EDELRID FUSE
Certification: EN 353-2, EN 12841-A, RfU 11.075, ANSI Z359.15
Weight: 420 g
Max. User weight: 140 kg (Rescue: 220 kg)
Suitable rope diameters: 10,0 - 12,0 mm
EDELRID DEFUSER S
Certification (in combination with FUSE): EN 353-2, EN 12841-A, ANSI Z359.15
Weight: 64 g
Max. user weight: 140 kg
EDELRID DEFUSER L
Certification (in combination with FUSE): EN 353-2, EN 12841-A, ANSI Z359.15
Weight: 76 g
Max. user weight: 140 kg
EDELRID DEFUSER RESCUE
Certification (in combination with FUSE): EN 353-2, EN 12841-A, ANSI Z359.15
Weight: 133 g
Max. user weight: 220 kg
Company information
Since its establishment in 1863, EDELRID GmbH & Co.KG has developed into a leading ma- nufacturer of ropes, climbing equipment, and personal protective equipment (PPE). The com- pany is particularly characterized by outstanding innovation and sustainability. EDELRID not only developed the first kernmantle rope but also brought the first bluesign® certified ropes to the market. All product development activities take place in the German town of Isny im Allgäu, where 60% of all products (including 100% of ropes) are produced. This guarantees not only the exceptional quality and functionality appreciated by EDELRID customers worldwide, but also ongoing innovation. The renowned climbing shoe brand Red Chili has been part of EDEL- RID's product portfolio since 2017.